Kids Home
Upcoming events and services available in the Children's Department.
Summer Reading 2017
Wednesday, June 7th - Tuesday, August 1st
Sign up for the Summer Reading Program in the Children's Department or online using 
 and earn prizes all summer!
Click here for Discovery Tuesday Events
Click here for Special Summer Events
Upcoming Events
Tuesday, June 27th at 10:30 a.m.
Live animals will be introduced throughout the show as we learn about the rainforest and how to preserve it for a healthy atmosphere.

Storytime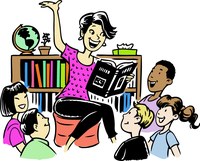 Toddler Storytime - For babies and toddlers up to age 3
Wednesdays at 10:30 from Jun. 14th - Jul. 26th
Featuring stories, lapsits, fingerplays, music, & movement activities.
Preschool Storytime - For children ages 3-5
Thursdays at 10:30 from Jun. 15th - Jul. 27th
Enjoy stories, movies, songs, & crafts.
Enroll your kids in "1000 Books Before Kindergarten" now!