Kids Home
Upcoming events and services available in the Children's Department.
Upcoming Events
Easter Craft Saturday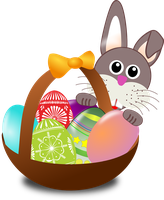 Saturday, April 15th from 10:00-11:30 a.m.
Make some crafts to celebrate Easter Sunday!
Afterschool Movie - Sing
Thursday, April 20th at 3:30 p.m.
In a city of humanoid animals, a hustling theater impresario's attempt to save his theater with a singing competition becomes grander than he anticipates even as its finalists' find that their lives will never be the same. Refreshments will be served, and all are welcome! (Rated PG; 108 min)
Storytime
Toddler Storytime - For babies and toddlers up to age 3
Wednesdays at 10:30 from Jan. 18th - Apr. 12th
Featuring stories, lapsits, fingerplays, music, & movement activities.
Preschool Storytime - For children ages 3-5
Tuesdays at 1:30 & Thursdays at 10:30 from Jan. 17th - Apr. 13th
Enjoy stories, movies, songs, & crafts.
Enroll your kids in "1000 Books Before Kindergarten" now!