Library Millage 2020
Information about the library millage vote that will take place on August 4, 2020.
On August 4th, 2020 there will be a proposal on the ballot for 1.25 mils for 10 years for the Fremont Area District Library. The 1.25 mils would be in addition to the current 1.5 mils the library receives and has received for the last 20 years. With voters' support, the funds would be used to:
 Increase the number of hours the library is open to the public.

 Replace and update badly outdated technologies and computers.
 Increase physical & digital books & materials. Increase programs with more presenters and program supplies.
How much will the millage cost you?
The proposed millage would cost the average household in our service area $7.08/month. A home of $100,000 taxable value would pay $125/year.
For the average household, the monthly cost of the millage would be LESS THAN:
  A basic Netflix subscription
 Two Starbucks Grande Lattes
 A basic Audible subscription
  A one-year subscription to Time magazine
  Two Hot 'N Ready pizzas from Little Caesars
Did you know?
The last library millage was passed over 20 years ago. Since then, the cost of all books and materials has increased, and we are now purchasing e-materials and DVDs, which we were not 20 years before. Large print books--a high-demand item at the library--cost an average of $10-$15 more per book now. We are currently open 44 hours/week. The national average is 52.8 hours, and we used to be open 60 before budget cuts were made.
Where does the library's budget come from?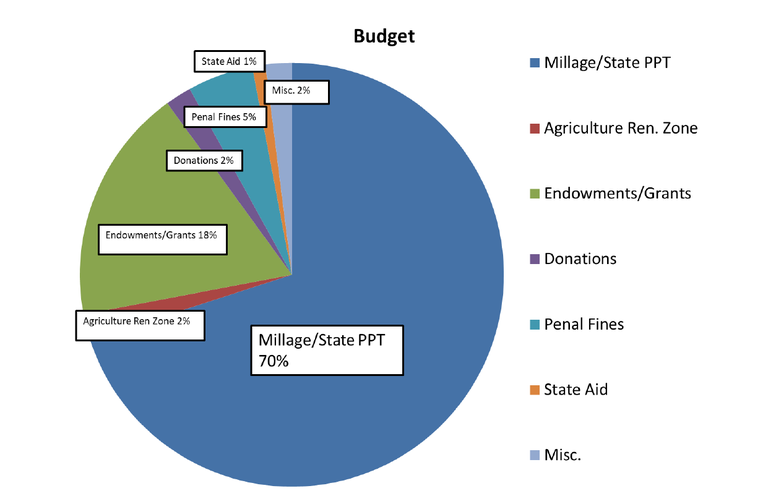 What will you see on the ballot?
Shall the Fremont Area District Library, County of Newaygo, Michigan, be authorized to levy a new additional millage annually in an amount not to exceed 1.25 mills ($1.25 on each $1,000 of taxable value) against all taxable property within the Fremont Area District Library district for a period of ten (10) years, 2020 to 2029, inclusive, for the purpose of providing funds for all district library purposes authorized by law? The estimate of the revenue the Fremont Area District Library will collect if the millage is approved and levied by the Fremont Area District Library in the first year (2020) is approximately $567,000. By law, a portion of the revenue collected may be subject to capture the City of Fremont   Brownfield Redevelopment Authority. Pursuant to a library service contract, a portion of the revenue collected may be transferred to the White Cloud Community Library.